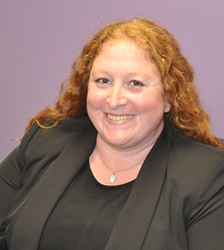 Ms. Shenkenberg is a Michigan native. She earned her Bachelor's Degree in Psychology from Eastern Michigan University, during which time she earned a position as a senior columnist for the award winning paper, Eastern Echo. She then went on to Madonna University, earning her Master's Degree in Clinical Psychology. She has worked as a volunteer for Care House of Oakland County as a child assistant. During her graduate program, Ms. Shenkenberg worked as a Graduate Practitioner for Catholic Charities of Southeast Michigan (Formally known as Catholic Social Services), where she served diverse clients of all ages. Ms. Shenkenberg has facilitated a Care Giving Support Group, and a Youth Grief Group.
Ms. Shenkenberg is also currently working as an Adjunct Professor of Psychology at Oakland Community College. She has direct experience working with children, adolescents, and adults. Ms. Shenkenberg specializes in grief and loss, trauma, divorce, parenting, and adjustment and anxiety disorders. She is enthusiastic about teaching and will always educate her clients on how to learn and implement positive coping skills for the client to utilize during their journey of reflection and growth. Ms. Shenkenberg keeps a welcoming, and relaxed atmosphere for all ages.
In her spare time, Ms. Shenkenberg enjoys several hobbies. She is a recognized photographer, (creative) writer, and a visual artist (specifically with a focus in Mixed Media).  Her work has been published in numerous literary journals and has displayed her art in many different exhibits.  Ms. Shenkenberg emphasizes the key to a successful therapeutic relationship is feeling safe to freely discuss anything and with the understanding that there will be no judgement or criticism. She works in a way that you will always have complete autonomy. We are here to provide the tools to assist you in creating the treatment plan that we decide, as together, is the best option for reaching your goals.