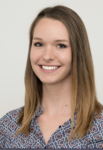 Carrie earned her Master of Science Degree in Clinical Behavioral Psychology from Eastern Michigan University. Carrie began her clinical experience in community mental health in Detroit doing applied behavior analysis with children diagnosed with autism spectrum disorder.  She completed her graduate practicum in an integrated primary care setting working with patients of all ages to help improve both mental and physical health alongside a strong team of providers.
Carrie's approach to treatment incorporates evidence-based behavior therapies, psychoeducation, and mindfulness. She is passionate about working with clients of all ages, especially adolescents and adults who struggle with issues such as depression, anxiety, substance use, and adjustment difficulties.
She believes in providing a non-judgmental space for clients to connect with their values and working collaboratively toward making meaningful change.
Back to Michigan Mental Wellness